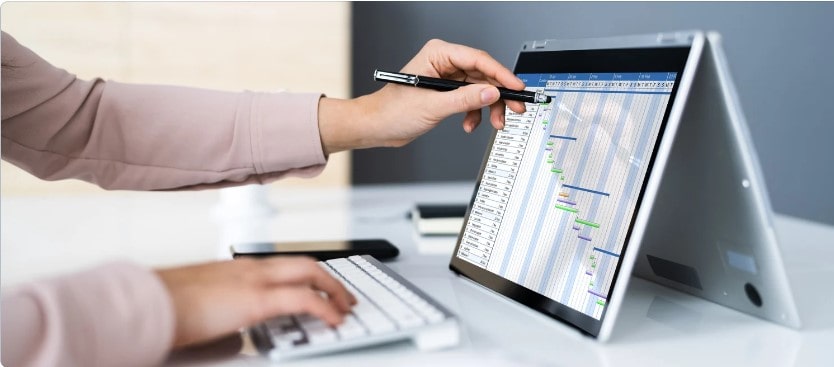 How construction industry can be improved: digital project management
One of the most important developments we have seen in recent years in the construction sector is the emergence of cost-effective and customisable digital project management software platforms.
New applications have transformed every aspect of construction project management, from task management to productivity monitoring, and even improved sustainability through an easier transition to digitised documents and processes.
As the UK construction industry continues to evolve in response to market demand, talent acquisition challenges, and material availability, so do the technologies that support contractors to deliver their projects on time and within budget. In this article, we'll look at how digital project management software works, and how you can improve communication and collaboration, reduce costs, and increase efficiency, and offer more flexibility through digital tools.
Strengthen communication, collaboration, transparency, and accountability.
Digital project management software platforms are designed to streamline key tasks and deadlines, making it easier for teams to stay on track and collaborate effectively. This technology increases transparency for all stakeholders involved in a project, giving everyone an accurate picture of progress at any given time.
Clear communication and collaboration yield real-world dividends in improved efficiency, greater accuracy, and a lower risk of LADs and project overruns. It also saves management time.
In fact, if you invest in the right type of digital project management platform for your operational needs, you can streamline the entire process of communication and collaboration between contractors, Subcontractors, project managers, and other stakeholders, injecting greater accountability into the construction process.
Capturing key performance data on information flow, quality issues, meetings and reports provides real-time data for analysis, all backed by detailed data tracking capabilities - digital project management software can completely transform the way you organise and deliver projects for your customers.
Making the right choice of software is a crucial consideration.
Several types of project management applications are on the market, and not all are optimised for all construction and civil engineering elements. Check with your vendor carefully before making an investment – and it's often worth talking with an experienced construction consultant to help ensure that your software choice is fully aligned with the needs of your business and projects.
Improvements in efficiency and cost reduction.
With budgets tight in many sectors at the moment, cost control and efficiency planning are key considerations for construction contractors. Digital project management software is an asset in this regard by automating many laborious and time-consuming processes that were previously done manually and inconsistently. With a wide variety of tools available, from an intuitive user dashboard, data entry and communication tasks can be completed in minutes rather than eating hours of productive time out of a worker's day.
Your platform will also allow easier resource allocation, optimisation, and task scheduling for maximum efficiency gains, and with onboard predictive analytics, project managers and individual site managers are empowered to make better, data-driven decisions with greater accuracy—and save time doing so in the process.
Greater flexibility and versatility.
Standardisation of process and approach to construction projects is key to providing structure and support to project team members. Performance data is vital, you can't improve what you don't measure. A bespoke project management software solution can reflect your needs and objectives to provide you with the information you need when you need it.
Concise accessible information provides accurate data, assisting the project team in making real-time informed decisions. This helps project managers make quicker decisions with greater accuracy and less guesswork, as well as enabling easier tracking of procurements, scheduling, and availability updates.
All these tools and features make it easier and less challenging for contractors to juggle multiple projects, improving efficiency and enabling greater output and, ultimately, higher profit margins for the business. Milestone gives you time back to focus on your business and continued improvement.
Find out more.
At Cube, we offer an advanced project management software platform for construction contractors, facilitating precision management of every stage of project delivery and planning. To find out more, please call one of our knowledgeable team today on 01157060338.
Image source: Canva