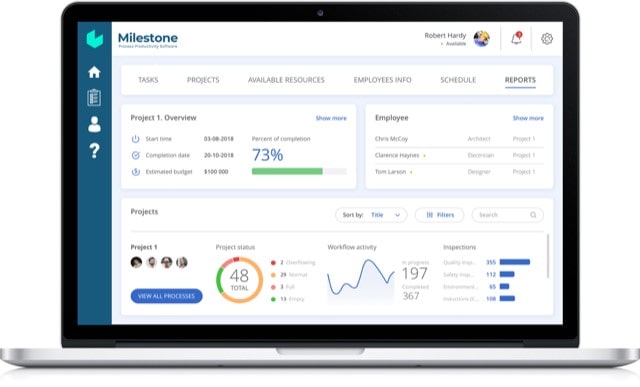 5 Benefits of construction management software for business control
Construction project management software provides a way for main contractors to control costs and avoid LADS by streamlining and improving how they manage projects.
In this article, we examine five ways construction management software can help improve your project management and give you time for better control over your business.
Consolidate project documentation in a single source of information.
Documentation is an essential part of the construction process. Using construction management software, you can keep track of all your documents from one centralised location, design information, construction programmes, specifications, progress photos, Health and Safety compliance documentation and other important documents related to the project. By managing your documentation efficiently, authorised users will have easier access to essential records and documents, resulting in less time wasted hunting for information, on desktops, in project files, and on text and WhatsApp messages, improving efficiency and productivity.
Project information optimisation and programme control.
Construction management software provides a clear and up-to-date understanding of how critical information, actions and communications are being optimised or, conversely, are causing progress hold points. By time logging and automatically tracking all key communications and actions, the project partners can quickly identify critical items that need priority conclusion before they present a challenge to the project programme or budget.
Having this data available on-site through a mobile or tablet allows project managers and site managers to make more informed and responsive decisions about what priorities are driving the programme and how information should be discussed to unblock delaying factors. The data gathered can be organised, tracked, and analysed to help optimise future projects.
Improve communication and collaboration between project stakeholders.
By using construction management software, teams can collaborate more effectively between the site and office than ever before. All teams, managers, and stakeholders involved in a project can access up-to-date information from where they are located, ensuring that everyone is always on the same page during the project, without critical communication delays when operatives and site managers are away from their computers.
Project management software also makes it easier for team members to communicate with each other in real-time via secure messaging systems accessed through a smartphone or tablet, which helps ensure that tasks are completed on time and without delays due to miscommunication or confusion.
Better data collection, monitoring, and analytics.
Construction management software can collect and aggregate data from multiple sources across various teams to provide a comprehensive view of each project's progress. You can use this data for analytics purposes such as forecasting project programme outcomes, subcontractor performance, and consultant responsiveness. you can also produce customisable reports for clients and other stakeholders at the click of a button, harvesting real-time data for up-to-the-minute content.
Streamlines project management.
Construction management software provides an efficient interface for managers to remotely track performance across their teams, suppliers, and subcontractors with minimal back-and-forth communication and delays.
This streamlined approach to project management makes it possible for managers to identify potential problems at an earlier stage in order to take corrective measures before issues escalate into major problems with delivery or cost control. Furthermore, having instant and convenient access to up-to-date performance data enables site managers to provide meaningful feedback and recognition when appropriate, so that project team members stay motivated throughout the project timeline.
Project management software for building construction – contact Cube Consulting to find out more.
To find out more about our services for small businesses and how our construction project management platform, Milestone, can help you minimise costs and time overruns in your construction projects, please get in touch, or click here to view our pricing.